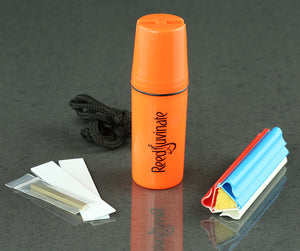 The ReedJuvinate Reed Preservation System
Put reed anxiety in your past. Confidence in your reeds lets you perform confidently.
ReedJuvinate guarantees you longer lasting, consistent, immediately playable saxophone and clarinet reeds.
Our system includes:
1 water and air tight antiseptic holder (orange)
"fits all sizes" reed clip holder – stores 3 of any soprano, alto, tenor, bari sax; Bb soprano, A, alto clarinet, and bass clarinet reeds
2 ClarinetClips to store an additional 2 soprano sax or clarinet reeds
1 humidity stabilizer sponge
1 internal stand magnet (friction fits inside the case) in plastic zip bag
1 lanyard
instructions for use on the box
ReedJuvinate ships from Canada by Canada Post. 
Yes, we ship anywhere in the world!